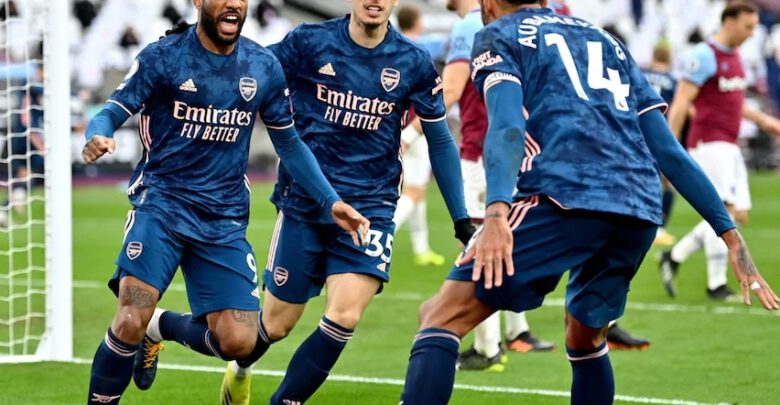 If ever a single match could encapsulate the modern Arsenal, summarising the baffling nature of a team that can veer between appalling and excellent within the same game, it is this one.
For 30 first-half minutes, Arsenal played like a side with no identity, no ideas and no hope of ever making significant progress. For the rest of the match, they played some of the best football they have produced this season. "This game is going to give me a few nightmares," said manager Mikel Arteta. "We cannot have two faces."
How to make sense of all this? How to find reason and logic in such a wild, ludicrous afternoon? How to explain that West Ham United, one of the league's most resilient sides, scored three goals in the opening 32 minutes but did not go on to claim three points?
Maybe the best explanation is that this is just what happens when Arsenal are involved. Shambolic one minute, sublime the next. Two faces indeed. The opponent almost does not matter sometimes: Arsenal either play their own game or they undermine their own cause.
This is not to downplay the excellence of West Ham in the first half when Jesse Lingard was largely untouchable. Fresh from his England recall, Lingard was the game's standout player in the opening half an hour, scoring one and creating another as Arsenal sleepwalked into terrible trouble.
They've done it! 😱
From there, though, it was all about Arsenal's comeback and the creative efforts of Lingard's opposite number: Martin Odegaard. The on-loan Real Madrid midfielder led the thrilling charge for Arsenal, picking the passes that caused so many problems for the hosts. "An incredible performance," said Arteta of the 22-year-old. "When everybody was trembling, he gave us that stability and composure on the ball."
David Moyes has seen it all in football management, unlike Mikel Arteta, but he will not have experienced too many afternoons like this. With Lingard, Jarrod Bowen and Tomas Soucek all scoring in that half-hour blitz, his side looked set to continue their push for Champions League football.
But Arsenal eventually woke up, and they woke up raging at their own incompetence. Odegaard was instrumental, and he was supported by Alexandre Lacazette and Calum Chambers as Arsenal forced West Ham into submission.
"We showed that face we still have and then, after that, for the next 60 minutes, we probably played the best I have seen us play," said Arteta. "We started to do what we had to do."
Even by Arsenal's standards, the opening 30 minutes here were calamitous in the extreme. This was not a tactical issue, seemingly, but an issue of motivation. Arsenal were slow, hesitant and laughably dozy at the back. "We didn't respect the game plan from the coach," said Lacazette.
Jesse Lingard 𝗹𝗼𝘃𝗲𝘀 playing against Arsenal!
He fires West Ham in front with a peach of a half volley before teeing up Jarrod Bowen for a second moments later! 🍑
The height of their ineptitude came for West Ham's second, scored by Bowen. You could take your pick of who to blame, with at least three Arsenal players standing still after a free kick was awarded on the edge of the box. Lingard, as sharp as Arsenal were dull, found Bowen with a quick pass and his low finish squirmed inside Bernd Leno's near post. Awful defending, awful goalkeeping, awful all round. "Unacceptable," said Arteta.
Arsenal were already trailing at that point, with Lingard continuing his spectacular resurgence with a wonderful opener. Picked out on the edge of the box by Michail Antonio, he steadied himself with his first touch before lashing a finish into the top corner.
West Ham would not have been this dominant even in their wildest dreams, and there was an air of disbelief at the London Stadium when Soucek then diverted Antonio's downward header into Leno's net for the third. "We played very well for long periods," said Moyes. "We showed we are up there, competing with the best teams."
Arsenal's first, late in the first half, was a crucial moment. Chambers found Lacazette, whose shot deflected into the top corner off Soucek. It buoyed Arsenal and, before long, Odegaard was running the game. His disguised pass found Chambers, enjoying himself in the final third, and the right-back's cross was slashed into his own net by Craig Dawson.
West Ham thought they should have had a free kick in the build-up to the goal, but it would not have mattered if Antonio had then been able to convert Said Benrahma's cross from close range. Just a few yards out, he somehow hit the post rather than the net. "A key moment," said Moyes.
Arsenal were not yet done, and West Ham were running out of ways to stop them. Nicolas Pepe, on as a substitute, raced onto Odegaard's pass and crossed for Lacazette at the back post. His header completed the comeback on an afternoon in which Arsenal took their erratic inconsistency to even greater heights.
West Ham failed to win after being three goals ahead in a Premier League game for the first time since September 1998 (3-4 v Wimbledon). Arsenal, meanwhile, avoided defeat in a Premier League game they trailed by 3+ goals in for only the second time – previously doing so v Bournemouth in January 2017 (3-3).
West Ham have only won one of their last 11 games against Arsenal in the Premier League (D3 L7), failing to win any of their four meetings in the last two league campaigns (D1 L3).
Today against Arsenal (32 mins) was the earliest from the start of a Premier League match that West Ham have scored three goals since May 2007 against Bolton (29 mins).
West Ham's Jesse Lingard scored his fifth goal against Arsenal in all competitions – the most he has netted against any opponent in his professional career.
West Ham midfielder Jesse Lingard scored and assisted in a Premier League game for the first time since December 2018, when he did so for Manchester United in Ole Gunnar Solskjær's first game in charge of the club (v Cardiff City).