Beat-the-wheeze organises Asthma Awareness Walk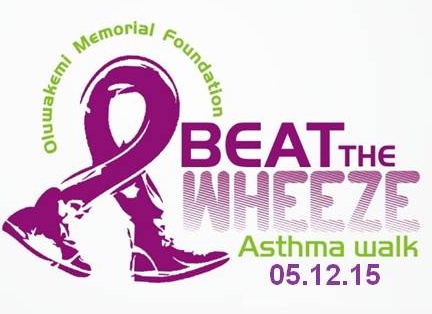 Beat the WheezeAsthma Awareness Walk is an annual event organised by Oluwakemi Memorial Foundation, a non-profit asthma awareness and advocacy organisation. Beat the Wheeze aims to increase awareness on the causes, treatment and management of asthma; and provide a platform for members of the community to connect and support a good cause.
The 3rdedition of Beat the Wheeze comes up this Saturday on 3rd December, 2016 by7 am at Pistis Annex, 3 Remi Olowude Way, by 2nd Roundabout, Lekki Lagos. As with previous years, it promises to be filled with fun and educative activities! This year's edition of Beat the Wheeze will include dissemination of asthma information leaflets, free health checks and discount sale of medical tools by Omron, warmup (& lots of dance) with Seun Fadina, raffle draw and goody bags for all participants!
Asthma is a chronic disease of the lungs, affecting about 334 million people in the world. In Nigeria, approximately 15 – 20 million Nigerians have asthma or symptoms suggestive of asthma. Asthma is a major public health concern that canreduce the quality of life of the affected individual. The burden is even more profound in countries like Nigeria where health costs are largely borne by the individual and in turn the community as a whole.Although asthma has no cure, with proper treatment, management and patient/public education asthma can be controlled and its burden reduced in our communities.
Oluwakemi Memorial Foundation with its network of partners and volunteers has been at the forefront of asthma awareness and advocacy in Nigeria. We work to developstrategic partnership with individuals, healthcare professionals, public health specialists, government agencies and corporateorganisationsto reduce the burden of asthma in Nigeria.