Don't abandon Ocholi's plans, family begs FG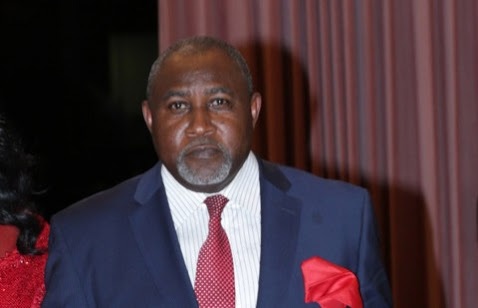 With a day to the final burial of the Minister of State for Labour, James Ocholi (SAN), his wife, Blessing and son, Joshua, the family of the deceased have called on the Federal Government not to abandon the masterplan which he had put in place to bring development to his people.
They specifically revealed that Abocho quarters where he built his house and the entire Ogbabede community, Dekina Local Government Area of Kogi State, do not have water, electricity and roads.
Corpses of the deceased who were involved in an accident along the Kaduna-Abuja Expressway arrived Abocho on Thursday from National Hospital, Abuja.
The spokesperson of the family and Ocholi's Uncle, Alhaji Abdallah Alfa-Aliu, in an interview with Journalists in Abuja, appealed to the government to continue with the dreams of Ocholi for his community.
While appreciating President Muhammadu Buhari, Kogi State Governor, Yahaya Bello and Ocholi's colleagues in the federal cabinet for the testimonies they gave about him, they also commended the national chairman of the All Progressives Congress, Chief John Odigie-Oyegun for his promise that that APC-led government would immortalise Ocholi.
Alfa-Aliu said, "But one thing that is not replaceable is the fact that Ocholi is gone. The community where he comes from and his place of birth, Ogbabede does not have water, electricity and roads. The only economic road from Agada, from his own place of birth to Lokoja is just a trekkable distance of just about 7 kilometres and that road is not motor-able.
"With his nomination as a minister, the masterplan was that through him, the community would at least, have their day. And now, that day has been terminated by this betrayal. You remember what Jesus Christ said about Judas Iscariot. Christ was so bitter that this son of man shouldn't have been born because he was one of the disciples and he betrayed Christ. In this country, we have suffered a lot as a result of betrayal by some people.
"As Ocholi leaves Abuja down to his permanent resting place, permit me to say that where he will be buried, there is no water, light and roads. And this is happening in this 21st century. After his exit (burial), we will appreciate if the Federal and Kogi State governments do not neglect and abandon Ocholi's masterplan for his people. Now that he will be laid to rest, the hope of his people to have light, water and roads, will now be abated.
"We are pleading with the government not to abandon or forget the Ogbabede community, particularly in this water, road and light project. Abocho is where he built his house and that is where he will be buried. He couldn't build a house in his own village (Ogbabede). Even in Abocho, where he built his house, there is no water there. So we want the world to know this and we plead that development should be extended to the local people Ocholi is leaving behind.
"We want the Minister of Works, Power and Housing, Mr. Babatunde Raji Fashola (SAN), to at least, pay him back and construct the Agada – Lokoja Road, which is a trekkable distance from Ocholi's community."
The Ocholi family, had through Alfa-Aliu, suspected a foul play, working on some theories concerning the accident.
First, that the driver of a car that somersaulted several times would ordinarily be unconscious and would not take photographs of the deceased and sent it on social media.
Second, that the driver and ADC should have cordoned off the place and evacuated the corpses because that has been the tradition whenever a VIP was involved in an accident.
The Federal Road Safety Commission, has vowed to prosecute the driver of the car which killed the Ocholi family over allegations that he does not have driving license.