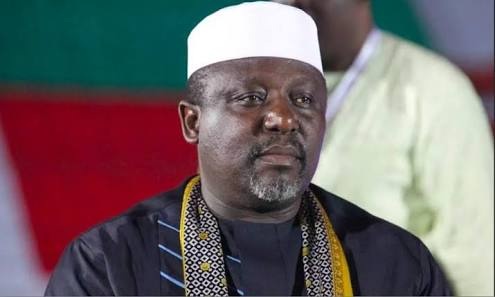 By Prof. Nathan Uzorma Protus
Last Saturday 5th of March was my birthday. I celebrated with the inmates and put smile on their faces in my little way. I am very grateful to God for making it possible for me to see another year. To God alone be the glory. I sincerely want to thank all my friends and well wishers who came to celebrate with me. May God bless you all. Today's article is to still remind Imo people about what I told them years back when they were chanting support for Gov. Rochas. The leopard cannot change its colour… Gov. Rochas is still what he is today. Read and think!
Aesop was a slave and a philosopher of note, he embodies an epigram not uncommon in human history; his fame is all the more deserved in view of his logical cum allegorical way of presenting issues. In fact, his fame I must say is well deserved in our state now due to the correlating factor of his fables in our present day democracy in Imo state.
In his book, "Aesop's Fables" a serious fable is highlighted on the old woman and the doctor. The fable goes thus, "An old woman became almost totally blind from a disease of the eyes, and consulting a doctor, made an agreement with him in the presence of witness that she should pay him a high fee if he cured her, while if he failed he was to receive nothing. The doctor accordingly prescribed a course of treatment, and every time he paid her a visit he took away with him some articles out of the home, until at last, when he visited her for the last time, and the cure was complete, there was nothing left. When the old woman saw that the house was empty she refused to pay him his fee, and, after repeated refusals on her part, he sued her before the magistrate for payment of her debt. On being brought into court she was ready with her defence. 'The claimant' said she 'has stated the facts about our agreement correctly. I undertook to pay him a fee if he cured me, and he, on his part promised to charge nothing if he failed. Now, he says I am cured; but I say that I am blinder than ever, and I can prove what I say. When my eyes were bad I could at any rate see well enough to be aware that my house contained a certain amount of furniture and other things; but now, when according to him I am cured, I am entirely unable to see anything there at all."
The above fable appears not just like a fable but a correlating reality in the political history of our noble state Imo. The fable vis-à-vis our present state, has indeed given almost every Imo citizen a daze that has continued to accelerate our obfuscated state. The noxious daze occasioned by bad leadership has ignited a serious virulent posture among the led to the extent that anger and deep exasperation are revealed on the faces of people. Those who doubt me should visit the state secretariat complex and see how anger and dissatisfactions are reflected on the faces of the workers but because the holistic doctor is still on duty, the workers appear to be docile so that they will not be denied of the little monthly crumb that falls from the table of the great healer and rescuer.
Like the fable of Aesop, when Archimedes the philosopher was expressing his intentions and capacity of moving the world by his dictum and allusion expressed thus, "Give me a place to stand and I will move the earth" Socrates had already responded, "Let him that would move the world first move himself". In witnessing the drama of being able to move the (the Nigerian nation) world, Okorocha has not been able to move himself. And in attempting to move himself, he has strayed into the quagmire and political cocoon of being related to the fable as Aesop had inferred. Imo people are quizzically looking at him.
Okorocha is like the doctor Aesop told us about who offered to cure a woman of her blindness, who in the same vein and in accordance with his usual propensity took away a piece of article from her house anytime he paid a visit. During his last visit, he left nothing with the woman. The woman saw him going with her properties one after another until the house was emptied and she refused to pay him his medical fee. The greedy doctor had the mind to sue her in the magistrate court for not paying him his fee as agreed.
The woman on her part was ready with her defence. She did not argue with the doctor at all rather she presented her own part of the story. In her words, "…I undertook to pay him a fee if he cured me, and he, on his part, promised to charge nothing if he failed. Now, he says I am cured, but I say that I am blinder than ever, and I can prove what I say. When my eyes were bad I could at any rate see well enough to be aware that my house contained a certain amount of furniture and other things; but now, when according to him I am cured, I am entirely unable to see anything there at all".
The above response is not a joke at all. Okorocha's mouth-watering policy of "my people, my people" has proved that he is on a rescue mission indeed. He came as the medical doctor who came to cure our blindness but gradually he is taking away by means of privatization everything that belongs to Imo people. Our articles are going one after the other. I am aware that the rescue mission of Owelle Rochas Okorocha has made Imo blinder than ever, I can prove this, like the woman was able to prove her case. Yes, when Imo people were blind during the previous administration we did see that our house (Imo) could boast of Adapalm, Imo Water Board, Imo Transport Company (ITC), State Secretariat Complex, to mention but a few, but now we have been cured or rescued from that blindness, we are unable to see in our noble home (Imo) those things that constitute our beauty.
Now that we are cured of the "blindness" we have discovered that this administration takes interest in the demolition of monumental structures in the state, we have seen that Okorocha's government appears to have abandoned all the city gates that would lead Imo into the advanced flying saucer and chariot of Nebecism, (a naphological theory) as promised during campaign. We have seen that due process and respect for the rule of law are on exit in Imo state. We have seen that the traditional rulers who did not support Okorocha's governorship bid, are already in purgatory patiently waiting when the great emperor would usher them into their rightfully owned traditional stool. An action I consider sacrilegious to Igbo identity and values.
Gov Okorocha did inform Imo people during his political campaign that (oke adighi eri ihe onye mu anya) meaning that the rat does not steal from someone who is awake but today, the revise is the case in Imo state because (nkita ata'ala okpokpo anyamaraya na olu) the dog has eaten the bone hung on its neck and the rat has stolen from not only a man that is awake rather from a community that is both awake and armed. What a topsy-turvy of Imo political life.
Okorocha's political philosophies appear to be like the Nazca line that could only be seen from the air. Imo is better only in the media. Yes, anyone who listens to Okorocha on AIT television would certainly believe that Imo is now the only Nigerian New York City. Well, I listened to one of my favorite comedian (Uche Ogbuagu) in his popular radio programme'Nkemere Last' aired in Imo Heartland FM, the comedian who also happens to be one of the Special Advisers of the Imo State governor, in scoring marks to the dirtiest city in Nigeria, rated Imo third position after Aba and Onitsha had taken first and second positions respectively. Gov. Okorocha however deserves an award on this. Chief Ohakim's Clean and Green Initiative that got Imo several awards as one of the cleanest States in Nigeria has died a natural death. Lack of continuity of good projects initiated by previous administration has made people of Imo bilious even the gods of the land appear to be angry too with this administration that gives with one hand and takes with another.
Our eyes are now open to see the hoodwinking dexterity that has engulfed Okorocha's award of scholarship. I shall talk about it later in this column. As a matter of fact, if everyone agrees with your dream, without oppositions or criticism, then probably it is a nightmare, not a dream. Furthermore, if you are not big enough to stand criticism, then you are too small to be praised. Though Napoleon Hill had informed us that a "successful" politician is one who is long in promises, but short on keeping them". This is exactly the success Okorocha's led administration has recorded so far.