2016: Ugwuanyi urges citizens to re-dedicate themselves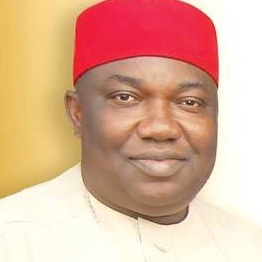 Governor Ifeanyi Ugwaunyi of Enugu state has urged the people of the state and Nigerians in general to use the opportunity of the 2016 New Year celebration to rededicate themselves and all their useful energies to the urgent task of rebuilding the nation's economy.
While felicitating with the people of the state and other Nigerians on the New Year celebration, Governor Ugwuanyi noted that Nigerians, along with all those in authority, needed a deep sober reflection as they embrace 2016 in order to get all hands on deck in tackling the myriads of socio-economic problems that confronted the people in 2015.
He commended Nigerians for bearing with stoic philosophy the heavy burden brought by the said economic situation and called for prayers and abiding faith in God to see the nation through to its aspirations in the new year.
Governor Ugwaunyi also recalled the unprecedented massive support he garnered at the polls during the governorship election in the state and the equally unrivaled hands of fellowship the people have continued to extend to his administration in spite of present economic crunch and thanked the good people of Enugu state for their love for him.
According to a release signed by Mr. Uwakwe Abugu, his chief press secretary, the governor urged the people to carry over this positive disposition to his administration into the New Year, assuring that all the laudable programmes and projects outlined and some already being executed by his administration since its inception would be completed in record time in view of his determination to achieve laudable goals for the benefit of the people.
The governor who is reputed to place much premium on divine guidance in governance called on Nigerians to pray for the country as the new year is ushered in.
He assured the people of the state that his administration's actions would always be guided by the fear of God while working hard with the meager resources available to it to provide the gains of democracy to the people.