CP Lakanu, Streamlining Crime Combat in Imo State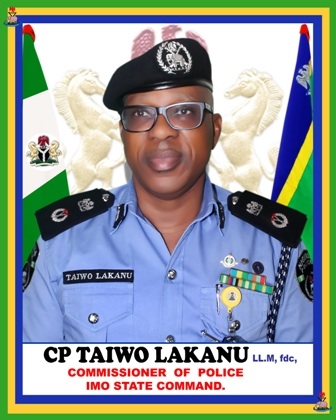 By Prof. Protus Nathan Uzorma
Prof Olufemi Taiwo, the Director of the Global African Studies Program and Professor of Philosophy and Global African Studies at Seattle University, Seattle, USA, in his possibilities instilling book, African Must Be Modern, remarked that "It is said: where there is a will, there is a way. Having a will translates into not prima facie foreclosing any possibility. Often it involves ruling out failure while leaving as the only option the doing of what is on offer. There is no suggestion here that one already has any idea how what the will accepts to do is to be done. But for those imbued with the sense of the possible, who have inculcated the philosophy of possibility, the default response is: IT CAN BE DONE.
So they set out to find the appropriate methods- The way- To the destination represented by the challenge they have adopted. Those who are in the grip of the philosophy of limits; who think only or mainly in terms of what they cannot do react differently. When once you have announced that something cannot be done, it stands to reason that all that you are left with are alibis for your confession of impotence: "We don't have the money." "We don't have the technology…"
The above reflection points to the rapport between the conditioning of the human mind and will, and the sense of duty or dedication of a public servant or leader. Dedication to duty makes for the sense of possibilities and leitmotif of a courageous will, and thus the streamlining or simplification of crime-combating strategies and success. It is only a master in the field and a well dedicated professional who considers excellence in duty above professional hazards that can 'easify' crime-combat success in a criminal ridden community as ours today.
It is on this note that the British Monarch, Victoria (1819-1901), when speaking to the former British Prime Minister, Arthur Balfour on the Boer War, said "Please understand that there is no one depressed in this house; we are not interested in the possibilities of defeat; they do not exist." A man of possibilities' world is not only imbued with the spirit of likelihood occurrence, but of risks, chances, probabilities and pen-ultimately of prospects. Thus, the reason why Frantz Fanon (in his Black Skin, White) said: "As a man, I undertake to face the possibility of annihilation in order that two or three truths may cast their eternal brilliance over the world." It is only a self-determined mind that can take risks of professional hazards and still come out with chains of successes as if it were with a magical wand, and these results are nothing but for the benefits of the assigned to.
The Igbo man says: Ochie dibia gbawa afa, o dika o na-aguta ndi muo oku n'onu- When a renowned and talented soothsayer divines, it seems he draws brimstones from the spirit's mouth. But in essence, it is the outcome of mastery and interplays between the will to possibilities and the dedication to duty. Even the US Statesman, Robert Kennedy (1925-1968) once said: "Some men see things as they are and say why? I dream things that never were and say 'Why not?'"
The above remarks on onus, willpower and sense of possibilities, best qualify the current Imo State Commissioner of Police, CP Taiwo Lakanu, who like the Irish-born British playwright and politician, Richard Brinsley Sheridan, believes that: "Certainly nothing is unnatural that is not physically impossible," meaning that every natural thing is possible. These comments best qualifies the disposition of the new Imo State Commissioner of Police, who barely 60 days in office, has shown himself a dogged fighter of crime, a man whose sense of possibilities silences the inner voice that warns of risks.
Since his assumption of duty as the Imo State Commissioner of Police on September 2, 2015, CP Taiwo Lakanu, being a man of possibilities, has undertaken very remarkable impossibilities ventures that most of his predecessors found difficult. Like the US writer, Henry David Thoreau (Life in the Woods) would say: "What old people say you cannot do, you try and find that you can. Old deeds for old people, and new deeds for new." CP Lakanu does not consider stories of impossibility ventures of his predecessors in policing crime in any part of the State in the past. He dares assaults on such areas and criminals and succeeds as intended. These have been possible because of his renewed strategies of restructuring, training and retraining of personnel as well as reinvigoration of outfits and coordinated efforts of men and officers of the Imo Police Command.
Mr. Lukanu in his dedication and expertise in crime-fight and as news and media tales recount, has in coefficient causation in these few number of weeks, led the men and officers of the Imo Police Command to track down more than 15 armed robbery incidents (rescuing 7 vehicles stolen at gunpoint), 14 child trafficking incidents, 9 kidnapping incidents (8 of which were rescued, the efforts of the Command not unconnected with the release of my wife, Esther who was kidnapped last month), 8 cultism incidents, etc.
These marvelous crime-combating successes are achieved in the aura of effortlessness, which testifies their genuine outflow from a superlative source of input. For the past 20 years in the State, there are but 5 predecessors whose gross senses of possibilities and achievement-inclination could be compared to Lakanu's. The implication is the sense of assured safety ahead, especially at the forthcoming Yuletide. Yet, this sense of assured safety is merely implicit as the very sense of possibilities itself is burdened with probabilities. Thus, Robert Browning (1812-1889) declaration that possibility is but: "The grand Perhaps!" These pose great challenges for the undeterred CP and his grand courage and sense of possibilities.
The Yuletide is close by. It is the moment of merry-making, of rest and cultural activities, of reunion, of funding raising (church and social) events and nuptial celebration-tides, etc. It is as well the moment when men of the underworld undermines the agility, vigilance and intelligence of the security outfits in the State in order to perpetrate crimes: Kidnapping, hired-assassination and untimely elimination of returnees for Xmas and New Year, armed robbery, gunpoint car-snatchings and theft, burglary of shops and bank-assaults, child-theft and trafficking, baby-factories maximum profit-making epoch, cultism activities and sundry threats, reckless driving and road accidents, and lack of safe-run-to-stay points for travelers returning at odd hours because of unprecedented mishaps on the road, pick-pocketing and pilfering of travelers bags and luggage, piracies of people artistic works and fashions, vandalisation of oil pipelines and electric properties, black-marketeering of adulterated petroleum products that burn many a household and properties down, intentional hoarding of petroleum products, indiscriminate bush burning that will certainly have many as victims, rude shooting of bangers and firewalls knockouts, ritualism and human-body trafficking, streetwalking and solicited prostitution, etc.,- All as 'runs,' 'hustling,' 'business,' 'sharpness and street wisdom' and ultimately, making it grandly and showcasing affluence at home. What can and how more efficient will the men and officers of the Imo Police Command under CP Lakanu, man these challenges and assure safe Yuletide sails for Imolites as they Command has assured within these seven weeks?
These thus, pose further challenges to the men and officers of the Imo Police Command and thus to CP Lakanu, especially as it is the first Yuletide after the general elections, when many that failed elections and gave themselves imposed vacations for psychological recovery, are returning home; while their former opponents and their sponsors would see them as still enemies that must be dealt with.
Yet, I am sure that with the possibilities-minded able CP Lakanu, there will be a safe Yuletide as it was during CP M.M. Katsina's epoch. All he needs is a collaborated effort with the good-willed men of the ruling administration, the cooperation of resident and returning Imolites in Community Policing, and above all, to imbibe the new policing ideology of the present IGP Solomon Eghigiator Arase's proactive policing than the reactive system that criminals and hoodlums in Nigeria have acculturated manipulative and resistant strategies on. With these and the dedication of CP Lakanu, Imo sails on a safe Yuletide.