Police, MASSOB clash during 16th anniversary service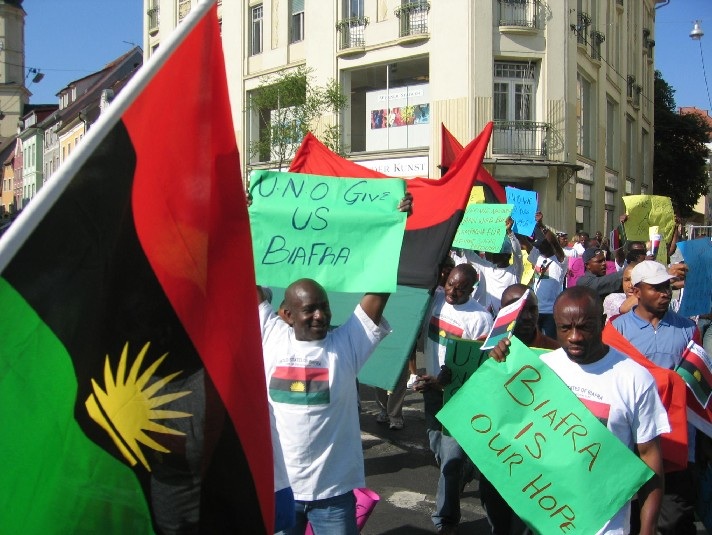 Pandemonium broke out on Sunday in churches in Anambra state where members of the Movement for the Actualization of the Sovereign State of Biafra, MASSOB who were marking their 16th anniversary clashed with the police. No fewer than 25 members of the MASSOB were arrested by the police and other security operatives at various churches in the state while one was shot.
There was unusual movements in the morning of about 38 Police, Army and Navy vehicles with one Personnel Armored Carrier parading in a long cue along Onitsha-Owerri Express way. All were heavily armed .
At St Charles Lwanga Catholic Church Okpoko,18 MASSOB members were said to have been arrested and one shot, while those that were not arrested continued with the thanks-giving church service. At Iba Pope Catholic Church, Awada, 11 members of MASSOB were equally reported to have been arrested by the police who were said to have laid ambush on the members of MASSOB who had gone to worship in their uniforms at the church.
Speaking on the arrest, the Anambra North Coordinator, Emmanuel Omenka said, " those arrested were my members and they were more than 18. We are a non violent body and have come to thank God for our existence for 16 years when the police, army and other security operatives stormed the church and arrested some of us. "This anniversary is taking place all over the world and by the special grace of God, no amount of intimidation, arrest and detention will deter us from struggling to actualize a sovereign state of Biafra", he said further.
Also at St Michael Catholic Church Nnewi, the Regional Administrator for Nnewi South, Tony Nwodo said, "they came here to this church and shot one of us and arrested three members.The Police are hunting us for nothing and even in a place of worship, they still attack us as we mark 16 years of our existence".
added further.
Also at Awka, two were arrested according to the MASSOB former Deputy Director of Information, Mazi Chris Mocha who said that the group "is not deterred by such unreasonable arrest in church premises, something nobody will do in Mosques". Vanguard.