AUN Academy, Northeast's International Gateway, Celebrates 59 At Graduation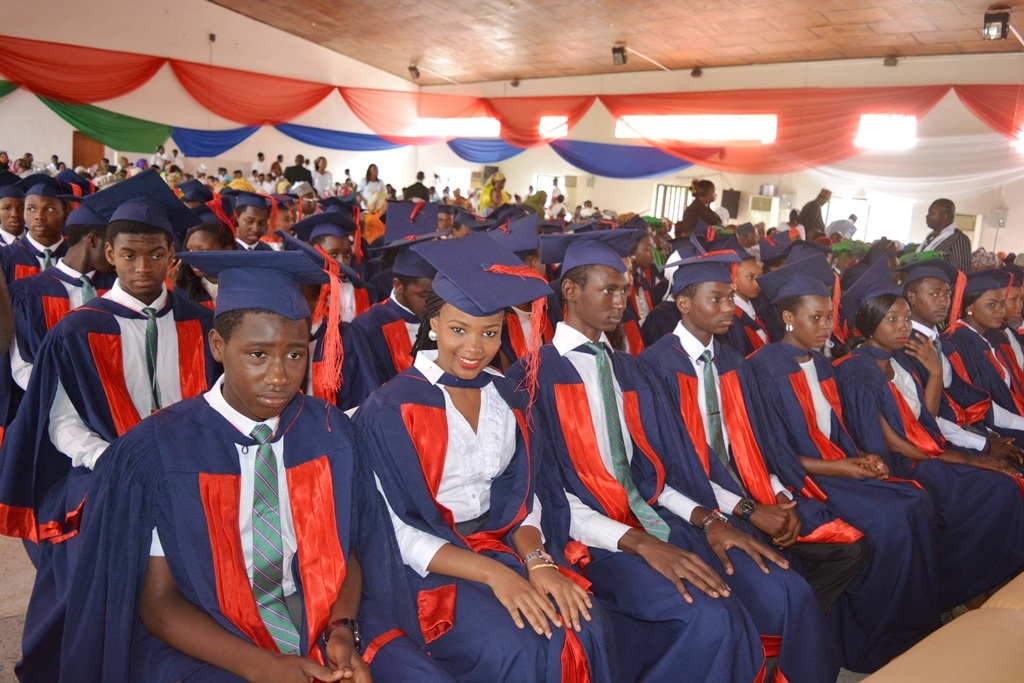 By Nelly Ating
"My daughter got the best result in every subject while she was here. When she got to AUN, she graduated with First Class gold, and, believe you me, Oxford University admitted her to its PhD program directly from her first degree."
Confident of her future, a grateful Alhaji Usman Wuro-Chekke has now seen his fifth child graduate from the AUN Academy (Secondary) this June.
The AUN Academy is a leading provider of quality secondary school education in Nigeria. Situated in Yola, it is also one of the major feeder schools for the American University of Nigeria. For the coming Fall semester, AUN has admitted altogether 31 candidates from the Academy.
The Executive Director of AUN Schools, Mr. Ashish Gill, told the graduating students: "Your character is your wealth. You will leave a mark in this world and be remembered for who you were and not for what you had."
Guest of honor and wife of the Founder, Chief (Mrs.) Titi Abubakar, charged the fresh graduates: "Imbibe the spirit of self-effort, entrepreneurial skills, originality, and creativity. Whenever you find yourself, now or in the future, know that the much-needed seed of your survival, self-actualization, and self-fulfillment must be planted on the fertile soil of time as you prepare yourself for tomorrow's leadership… In whatever you do let courage be the foundation of your integrity. With courage you will dare to take risks."
The keynote speaker, AUN's Vice President of Campus Life and Dean of Students, Byron Bullock, who represented President Margee Ensign, focused on the challenges Nigeria faces.
"You have to be the one to destroy hunger and conquer hate in this world… You have to be the one to rid this incredible nation of corruption and crime… You have to be the one to educate the masses of people in what will be the third largest country in the world by 2050. …You have to be the one to save and preserve our environment. I am convinced that right here in this group are entrepreneurs who will establish successful businesses right here in Nigeria.
"On this journey take every opportunity to learn something new every day…each day has a beginning and each day has an end and what happens in between is learning."
Valedictorian Raihanat Mohammed Monguno thanked the Academy for attracting students from different backgrounds. The school, she said, has "molded us and shaped us into bright, outspoken future leaders, ready to face the world at any level." While the school has done its part, said Monguno, the ball is now in their (students') court. "I must tell you all, my fellow graduating students, we have been given all the necessary education and values to achieve great success, but we in turn must help ourselves by continuing the foundation that has already been given to us."
She encouraged her peers to boldly face the future. "We should be bold for our career choices, be prudent, but please, take risks."
The outgoing Head Boy, Ejike Gabriel Ajah, and the outgoing Head Girl, Aisha Yaro Jinjiri, also spoke at the ceremony.The Academy Year Book, which debuted last year, was launched by Chief Tarpaya Asaria, the Zana Marfi of Borno State, and his wife, both parents of one of the graduating students. The couple donated a princely sum towards the production of the publication.
AUN Academy was established in 2002 as an international school to develop students, both academically and morally. It has recorded consistently outstanding results in the West African Examinations Council's Senior School Certificate Examinations (SSCE), National Examinations Council (NECO) exams, and the recent Unified Tertiary Matriculation Examinations conducted by the Joint Admissions & Matriculation Board.
At the Academy, every child graduates with leadership skills to enable them be conspicuous in the world ahead of them. Every student engages in community service as part of learning by giving back to their community, thereby proffering solutions to societal problems. On February 14, 60 students of the AUN Academy demonstrated love and care for the underprivileged on Valentine's Day, when they visited the Yola Children's Home.
The Academy emphasizes self-development, self-discipline, and cultural respect; AUN Academy monitors students' moral growth through strong pastoral and moral programs.
With a small class size, the use of laptops and tablets are compulsory to enhance learning in a highly digitalized academic environment. With highly qualified expatriate and national staff members, the Academy has a well-equipped laboratory, music room, four science labs, IT laboratory, and a well-managed cafeteria that serves five meals per day. Students and teachers alike enjoy 24 hours of Internet connectivity, round-the-clock electricity supply, and trained security personnel for an environment that is secure and conducive to learning. The AUN Academy is a Cambridge-accredited examination center and holds classes for International General Second Certificate for Secondary Education (IGCSE), thus facilitating students' access to international universities of choice.
The Academy is designed to promote not only educational activities but also wellness, having varied play areas such as a swimming pool, a standard basketball court, and a lawn tennis court. In case of emergency, there is a school clinic with matrons, nurses, and doctors who are always on call. AUN Academy is an international school with both day and boarding options.