Arrest me if I disobey traffic rules, Oshiomhole charges agency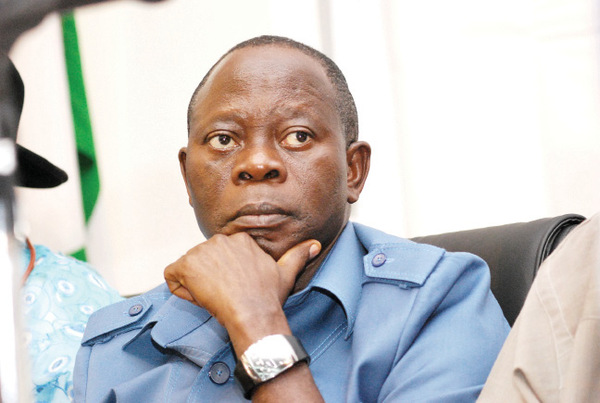 Governor Adams Oshiomhole of Edo State has charged the men of the State Traffic Management Agency (ESTMA) to stop and arrest him or the State Deputy Governor if their vehicles beat the red light rule, saying no one is too big to contravene laws in the state.
Speaking during a meeting with officers and men of the Agency at the Government House, weekend, Oshiomhole said men of the agency to be firm but civil in carrying out their duties, saying they must not treat 'big men' with levity because of their status in the society.
He said: "you must not extort, you must not criminalise innocent people, you must not let offenders go after extortion, if anybody beats the red light, you must arrest the person no matter his status. If it's the Governor or Deputy Governor, you must block him and interrogate him. The only person exempted from the red light rule is the President or Deputy President when they visit, in which case the road will be blocked for their easy passage.
"So if you can stop and interrogate the Governor for beating the red light rule, no other person is bigger in the state whom you can't stop. Anybody that contravenes the red light rule, stop him and detain him for at least two hours. Very many innocent people have been crushed because someone wanted to contravene the red light rule. This must stop", the Governor said.
"I speak the minds of Edo people when I say very many people have been victims of your very crude and harsh traffic management methods.
"When you misbehave as some of you do, people in anger dismiss you as Oshiomhole police. I have no police. In fact, I am one of the very few who have spoken out against state police. I am commended for so many things but not so many people have commended me for this particular intervention, even as you have come into existence to help control traffic", he said.
"I have to remind you that you are agents of a civil authority so your language must be civil. You are agents of a civilian government. You are not agents of a military government. Your language should not be "with immediate effect". Your language must be consistent with the language that is acceptable in a democracy.
"You can be firm and yet be smiling. You need to be reminded that we are to provide services. In dealing with our masters, we must mind our language; you must be civil but firm. Laws must be obeyed; not laws in the hearts of rulers, but laws in the statute books.
"You must not under any circumstances arrest someone who has committed no offence. Let me remind you that you are not primarily a revenue generating agency. That is not the primary purpose for setting up the agency. When people breach the law, there are prescribed penalties", he added.
The Governor however frowned that some men of the agency as they are often absent at their beats to maintain free traffic flow, saying "as I drive round the city, I still find out many of you are not working but get paid. We are devising a new method to ensure everybody earns his pay. We are going to put in place plain-clothed people to monitor you and as soon as you are caught extorting the public or contravening the laws, we prosecute you and you spend at least one month in prison, we are tired of your work giving government a bad name", he said.
Earlier, the Commissioner for Transport, Mr Orobosa Omo-Ojo had told the Governor that men of the traffic agency had come under attacks from some people who feel they are bigger than the laws of the state. He thanked the Governor for always standing by the agency in the discharge of its duties.