Reward For Jobs Well Done, by Eddie Onuzuruike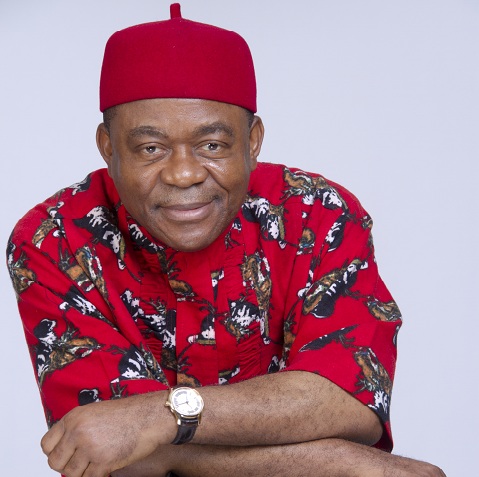 …By Eddie Onuzuruike…
The recent election of Chief T.A. Orji, the Governor of Abia State as the chairman of Southeast Governors Forum did not come as a surprise. The antecedents of the Abia Governor are well known to many and these have set him up for many types of leadership positions. In fairness, it is a catalogue of diligence, sacrifice and hard work of exceptional quality.
Thinkers worldwide acclaim that hard work is a catalyst to success. The Holy Bible and the Koran in many of their injunctive and prescriptive treatises posit that any who works hard has no other direction than to move forward. How be it, it is just a matter time.
Here are few samples of these great sayings. 'There are no shortcuts to any place worth going,' said Beverly Sills. 'Talent means nothing while experience acquired with humility and hard work mean everything,' quoth Anthony Bourdain. The Holy Bible prognosticated equally in PROVERBS chapter 13:4. 'The soul of the sluggard craves, and gets nothing, while the soul of the diligent is richly supplied.' Further in the same PROVERBS chapter 14, verse 23, 'in all toil there is profit, but mere talk tends only to want.'
Peeping into the Koran, 'An-Najm 53: 39-41: That man can have nothing but what he strives for. That the fruits of his striving will soon come in sight. Then will he be rewarded with a reward complete.'
Ochendo as he is popularly called, has long laid the foundations for all that is coming his way today. From inception when elected the Governor of God's Own State Abia, he left nobody in doubt that he came prepared. Since he opened his to-do list, it has been sequences of great things most of them unprecedented. Aware of the lacking but needed services and infrastructures, he dealt decisively with the worker's welfare, being one of them and knowing where the shoe pinched hardest. This financial enhancement was partly to get them ready as partners in the developmental task ahead.
Due to his die-hard zeal for education and information, he proclaimed free education in primary and secondary schools, placed buses for relaxed transporting of our children without charges in Umuahia and Aba. One of the characteristics of modern cities and administrative areas is the presence of paved and asphalted roads which have been a feature of electioneering campaigns since the sixties, unfortunately unexhausted due to negligence in some cases and its vastness in others.
In a positive shift from the past, a total of 102 roads were marked out in the second tenure and over 80% have been concluded. A new outfit has been set up known as Abia Road Maintenance Agency (ABROMA) which has concentrated its efforts on maintenance and repair of old ones.
Do you know that in the first two years of his tenure, that the street lights were powered by a dedicated generator all in the bid to make Umuahia have the semblance of a capital city?
As a matter of fact, he followed his manifesto so judiciously, focusing on health, housing, public utilities, agriculture and many innumerable others.
The emergent situation of security was faced headlong. The impunity and stench from the rot in the L.G.A system was dealt a final blow, involving liquidation of salary arrears and the introduction of biometric data system to check fraud, ghost workers syndrome and reduce to the barest minimum the escalating incidence of truancy.
All along Governor Orji's tenure, it has been a culture of frequent unfolding of new events like the dialysis machines in the Abia Specialist Hospital and Diagnostic Centers. Spectacularly, he has addressed youth restiveness and installed agencies that concentrate on youth empowerment like AYES, The liberation Farms and multiple skill acquisition centers in the 17 local government areas. Topping the list is the donation of vehicles which is fast becoming a trend as many legislators are emulating.
His works are self-evident and for these efforts, have been celebrated with multiple awards locally and internationally. Very highly applauded is the institution of peace initiatives that handled delicate matters like the fusion of strange bed fellows in PDP, APGA and PPA. This was headed by our respected and highly honoured men and women led by Senator Ike Nwachukwu, former military governor of old Imo State, former Minister of Foreign Affairs and serially decorated Adjutant General of the Nigerian Army. This committee toured round Abia and yielded a peace ambience that has never been experienced.
It is obvious that having done well at home he will be called abroad. His rapport with Abians at the center is another case study as he departed from an ugly tradition and wrought an understanding with legislators and other federal appointees in Abuja and Abia. This has placed Abia in a positive light, destroying the sobriquet of Abuja and home based politicians. This rancor free leadership style can only lead to a healthy growth and it did.
It must be realized that Chief Orji did not get these on a platter of gold as there have been situations where he had to take hard decisions which superficially seemed to be impossible. The ban on commercial motorcycle operation, the introduction of biometrics against the ugly case of ghost workers, and most importantly, weaning himself from the political family dynasty that held the state by the jugular were trying times that frightened the lion-hearted. Additionally, his full endorsement of power shift to the South, the courage to cross the political party chasm and make peace with the opposition are exceptional maneuvers. He sponsored executive bills that came out as laws, making kidnapping a capital offence as to deter offenders, and others are hallmark events.
Concurrently, he brought so many firsts in his governance, backing his promise to leave Abia better than he met it. A few spectacular examples though not exhaustive will do.
Promotion of all Civil Servants to the next level, erection of an e-library, installation of an industrial size elevator located at the new secretariat are some of the marvels. He also built the first International Conference Centre in Abia, oversaw the appointment of a female as registrar in ABSU for the first time. Before now, dialysis machines were only seen on photographs or by those who could travel abroad, but he installed six at the new diagnostic center.He is building the first Government House in Abia, independent of colonial structures. Most importantly, he is the first governor to genuinely advocate for power shift as contained in the Abia Charter of Equity. As said above, these are just a few examples.
As captured above, the recognition and election by South East Governors Forum is not a surprise. It is laudable and an acclamation of previous success and track record of consistency recorded.
Added to all these, the high pitched calls from all parts of Abia for him to mount the saddle of the senate in his zone are double honours. There is no doubt that Ochendo will bring his previous experience to bear in the new appointment.
His position on issues of Ndi Igbo will definitely propel Igbos to speak with one voice as was done in Abia with the minutest confrontation.
With his leadership, the South-East Governor's Forum will certainly emerge as a sound and formidable political bloc getting us ready to play the politics of 2015 to our advantage.
He may certainly not interfere with governance in the South East States, but his already established leadership by example and team player persona will definitely oil the wheels.
He had long been dialoging with the North and may not need renewed effort to lead a new diplomatic mission. The Yorubas have neither been strangers as he holds the title of Tobalashe of the Source. Our brothers in the South-South are highly neighborly. His unshakable believe in a strong PDP and being a sturdy believer in the indissolubility of Nigeria, coupled with his personal character of not being desperate for anything makes him the natural point man to corral the Igbos and the PDP of the South East to a useful end. Fortuitously, President Jonathan came to inaugurate the construction of the second Niger Bridge not quite 24 hours after he was elected. Are these not signs of good things afoot? Congrats the visionary and great builder.