PHCN: BPE to verify terminal benefits of remaining 4,538 workers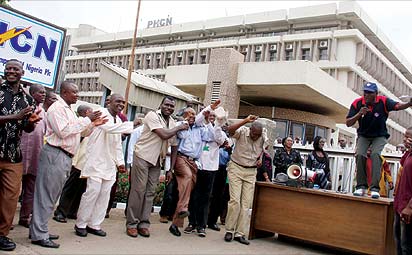 The Bureau of Public Enterprises (BPE) will soon visit some designated offices of the Power Holding Company of Nigeria (PHCN) in the country to address issues of terminal benefits.
A statement on Sunday in Abuja signed by the Bureau's Head of Public Communications, Chigbo Anichebe, said the benefits were those of 4,538 workers which were yet to be settled.
It said the tour of offices would simultaneously hold at PHCH's Abuja Corporate Headquarters, Ikeja Office, Port-Harcourt Zonal Office, Kaduna Zonal Office and the Bauchi Business Unit.
The statement also quoted Anichebe as saying all the PHCN staff with pending issues were advised to take advantage of the new initiative.
"They should visit the designated venues from 10 a.m. to 5 p.m. each day with their complaints.
"All the staff having pending issues are advised to contact their Successor Companies' Human Resources Departments for further information and modalities,'' it said.
The statement recalled that as at Dec. 20, 2013, 43,375 of the 47,913 PHCN workers had been cleared and paid their terminal benefits and pensions, which amounted to N361,024, 432,338.48.
It added that the number represents 95 per cent of the total staff.
"Those yet to be paid have issues, prompting the Federal Government to set up a Technical Committee to address those issues," it said.
The statement said the tour would hold from Jan. 29 to Feb. 12 to address residual issues related to the settlement of the terminal benefits of staff of the defunct PHCN workers.
"This is in line with the Bureau's determination to ensure that all residual issues related to the settlement of the terminal benefits of staff of the defunct PHCN are resolved following the privatisation of the former government monopoly.
"The tour will be coordinated by the Technical Sub-Committee of the committee chaired by the Permanent Secretary, Federal Ministry of Power and set up by the Federal Government on the Settlement of PHCN Terminal Benefits," it said.