Oyinlola, Baraje's suspension constitutional – PDP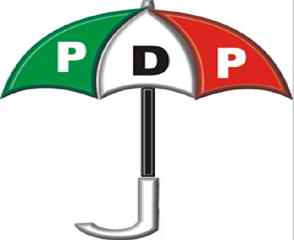 The Peoples Democratic Party (PDP) on Thursday said the suspension of Olagunsoye Oyinlola, Abubakar Baraje, Sam Jaja and Ibrahim Kazaure, was constitutional.
The PDP National Publicity Secretary, Mr Olisa Metuh, who justified the decision at a news conference in Abuja, said the party had lots of other options.
Metuh said the party was not aware of the Appeal Court judgment which reinstated Oyinlola, as the party's National Secretary and had not been served with a copy of the judgment.
Contrary to Oyinlola`s claim, Metuh said that the party`s National Working Committee (NWC) had powers to suspend any erring member of the party.
He also said the NWC had the powers to suspend erring members of its National Executive Committee (NEC) and members of its Board of Trustees (BoT).
Oyinlola had earlier declared that his suspension was a breach of the party's constitution, saying: "the NWC has no constitutional power to suspend him''.
He also said that he had not been formally informed of committing any wrong against the party as stipulated in its constitution before a disciplinary action could be taken.
Reacting to the claims, Metuh said that it was the party`s disciplinary committee that gives public hearing to suspended members not the NWC.
"NWC can suspend erring members at National level because the party's constitution allows it.
"Specifically, Article 57 (3) states that the NWC at any level of the party, and the Executive Committee (at the ward level) may after preliminary hearings, suspend a party member.''
He said the suspension, according to the party`s constitution, should be for a period not exceeding one month, during which the member so suspended shall lose his right to contest any election.
The party spokesman further added that such a member shall consequently be referred to the appropriate disciplinary committee.
He stressed that the party`s NWC could also act on behalf of its NEC in case of emergency and get the ratification of NEC as stated in Article 29 (2b) of the party`s constitution.
Metuh pointed out that the party`s NWC under the leadership of Baraje as Acting National Chairman, had in 2010, suspended some NEC members using same sections of the constitution.
He listed the members to include; former Senate Presidents, Ken Nnamani, and Adoluphus Wabara.
On whether the suspension had foreclosed the possibility of restoring peace to the party, Metuh said it was the aggrieved members who had refused to allow peace to reign in the party.
NAN reports that the four party members were suspended on Nov. 11, for alleged anti-party activities and breaching of the party`s constitution.
Baraje and Jaja, parade themselves as National Chairman and Vice Chairman, respectively, while Oyinlola was the splinter group's National Secretary.