We'll resume attack on oil facilities on October 1-MEND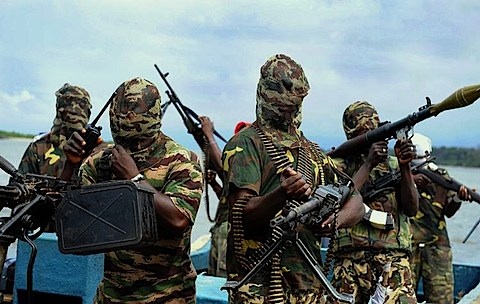 October I would e four years the Movement for the Emancipation of the Niger Delta (MEND) killed so many in an attack in Abuja. it is also the same that that the militant group has chosen to launch an attack at the Chevron tank farm in Escravos, Warri, Delta State.
MEND in an online statement signed by its spokesman, Jomo Gbomo on Wednesday said the planned attack will commence by midnight of October 1, while urging all workers at the facility to evacuate the premises.
The militant group expressed satisfaction that its previous offensive on Nigeria's oil facilities have achieved the desired result of reducing her production capacity.
part of the statement reads: " The Movement for the Emancipation of the Niger Delta (MEND is so far satisfied with the steady destructive progress of 'Hurricane Exodus' which has reduced Nigeria's oil output significantly through our sustained sabotage of pipelines.
"We will also continue to turn a blind eye to the crude oil merchants passing through our territories because their activities, apart from toll paid us, is helping to achieve our objectives of zero oil output by 2015.
"We use this medium to advice workers at the Chevron Tank Farm in Escravos to evacuate the premises as mortar attacks are imminent on Tuesday, October 01, 2013 from 00:01Hrs Nigerian time," it read.